Welcome
The Animal Molecular Genetics Laboratory focuses on identification and evaluation of genes and genetic markers associated with genetic improvement of production traits in pigs and other meat animal species. Much of our research is at the interface of structural and functional genomics, including a genetical genomics project to integrate genetic marker and gene expression data to identify genes controlling skeletal muscle and fat deposition, and their relationship to growth, carcass composition and meat quality in pigs. This effort applies both RNAseq and miRNAseq approaches in order to reveal gene regulatory networks and pathways. The lab also uses functional genomics approaches including transcriptome sequencing to study pig skeletal muscle development, and stress response in pigs. Recent efforts also include discovery of RNA editing sites in the transcriptomes of various pig tissues, and assessment of DNA methylation patterns in pig and human tissues.
Research
Expression Quantitative Trait Loci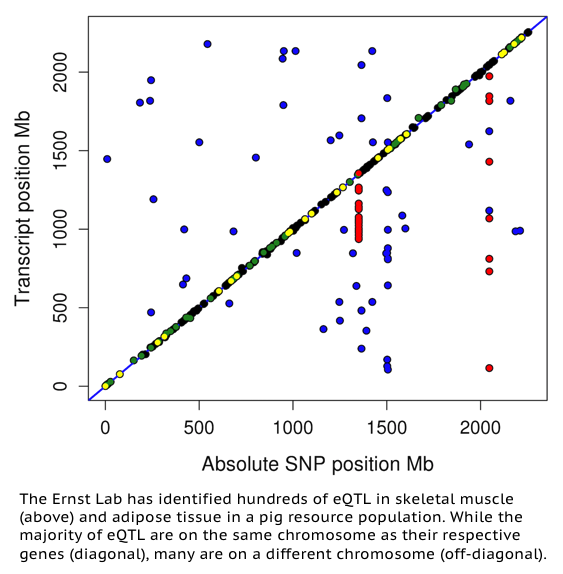 The application of genomic technologies is enhancing pig genetic improvement. Genome-wide analyses have revealed genomic regions harboring single nucleotide polymorphisms (SNPs) contributing significant portions of phenotypic trait variation. However, the molecular mechanisms underlying these contributions remain unclear. We aim to identify expression quantitative trait loci (eQTL) in the F2 generation of the Michigan State University Pig Resource Population (MSUPRP) to elucidate the genetic architecture of gene expression variation and gain insight on the genetic contribution underlying differences in polygenic traits. Associating gene expression profiles with genome-wide SNP markers reveals both local and distal regulators of gene expression. Local eQTL identify candidate loci directly influencing the expression of the associated gene and thus infers direct cause of variation in gene expression. Distal eQTL identify candidate gene-gene interactions where the expression of one gene may affect the expression of distant genes through transcriptional co-regulation. As sequencing costs go down, eQTL studies have the potential to be incorporated into expression-assisted evaluations in animal breeding by the use of genetical genomic selection of both phenotypic QTL and expression QTL. Our lab is currently conducting eQTL studies utilizing genotype and transcriptomic data (mRNA and miRNA) from adipose and skeletal muscle tissues to identify genomic loci influencing gene expression and economically-important pig-production phenotypes related to growth, meat quality, and carcass composition.
Related Publications & Presentations:
Transcriptional Profiling of Developing Pig Skeletal Muscle Tissue
The Ernst lab has had a long-term research interest in the mechanisms that control skeletal muscle growth and development. Development, growth and function of skeletal muscle are dynamic processes. Skeletal muscle ultimately becomes meat, the product of pig production, and skeletal muscle accounts for 40-65% of carcass weight. The number of muscle fibers in pigs, as well as most mammals, is determined prenatally. Development of skeletal muscle fibers during fetal development occurs in two waves during which myoblasts proliferate and fuse to form new fibers. Primary fibers form de novo and secondary fibers form around primary fibers. In pigs these processes take place at approximately 30-60 and 54-90 days of gestation, respectively. Our lab has collected skeletal muscle samples from an ontogeny of fetal and post-natal ages. RNA from these samples has been evaluated for transcript abundance and differential expression between ages using expression microarrays and real time quantitative PCR (qPCR). Ongoing work on this project involves examining transcript abundance using RNA-seq and microRNA-seq, as well as applying whole-genome bisulfite sequencing and other epigenetic approaches to further annotate the skeletal muscle transcriptome.
Related Publications & Presentations:
DNA Methylation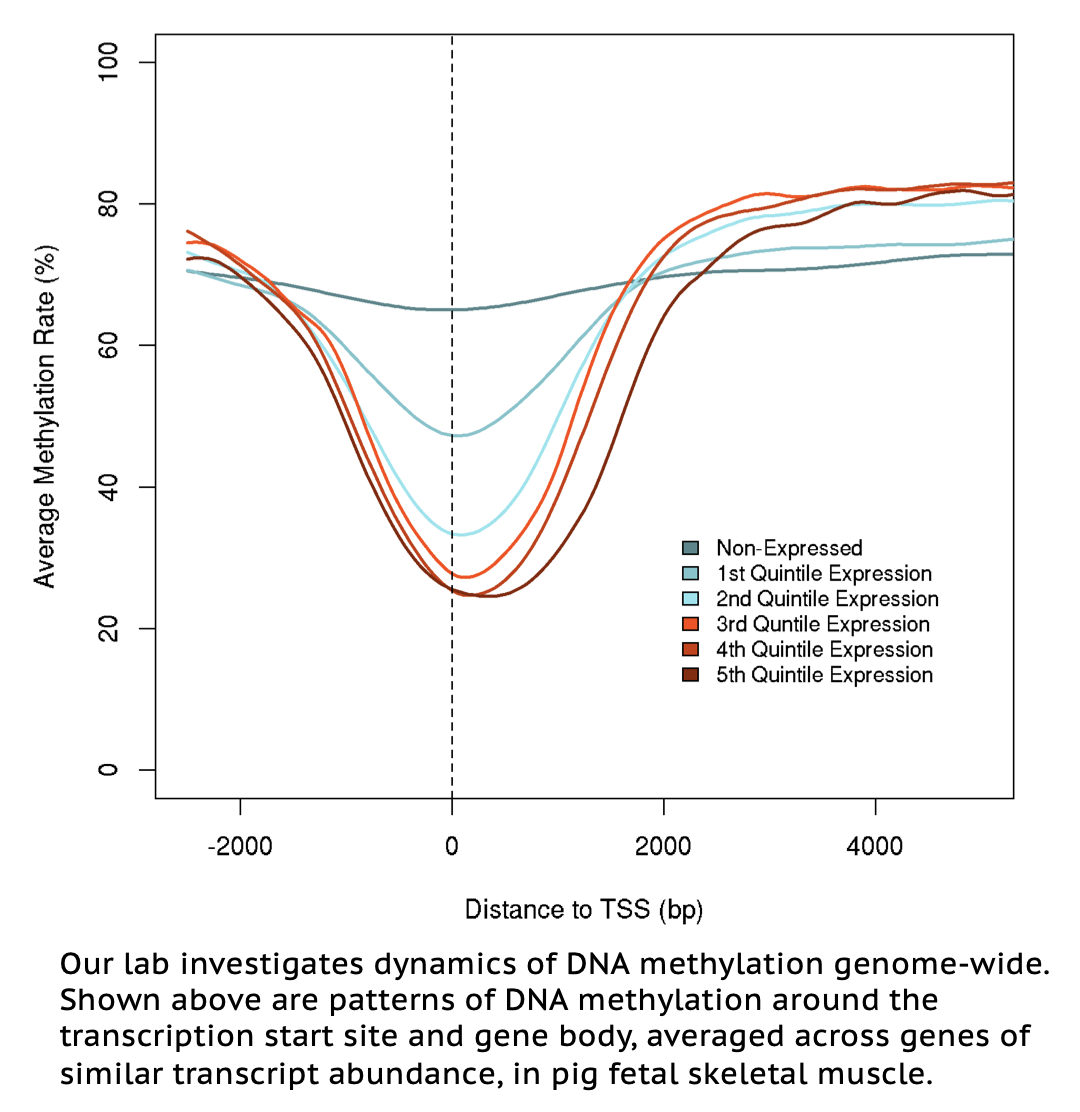 Epigenetic processes result in heritable changes in gene expression without changes in DNA sequence. DNA methylation—the most studied epigenetic modification to DNA—involves the enzymatic addition of a methyl group to cytosine bases in DNA, and in mammals occurs almost exclusively at CpG dinucleotides. CpG methylation at proximal and distal gene regulatory regions—including promoters, enhancers, and insulators—is strongly associated with transcription, and as such has been shown to play important roles in tissue-specific gene expression, early development, and genomic imprinting. DNA methylation patterns in mammals are also heavily influenced by environmental perturbations; aberrant DNA methylation in response to stressors has been associated with adverse life outcomes. The Ernst lab is currently using Whole-Genome Bisulfite Sequencing (WGBS) to assess DNA methylation patterns across a diverse set of adult and fetal pig tissues as a means to identify novel sites of transcriptional regulation. The lab also utilizes WGBS and array-based platforms to assess methylation dynamics in immune cells of pigs in response to stressors, as well as in human tissue samples of patients with psychiatric disorders.
Related Publications & Presentations:
RNA Editing
Among the complex ways in which animals can regulate the expression of transcripts, endogenous RNA editing has been shown to be widespread, catalyzed primarily by the nuclear expressed family of adenosine deaminase acting on RNA (ADAR) proteins that perform single adenosine to inosine transitions along premature RNA transcripts. It remains unknown to what degree transcriptome-wide RNA editing exists in livestock species and its overall effect on controlling complex traits. We have built bioinformatic software to streamline the RNA editing detection process from whole genome sequencing and RNA-seq data and have begun to apply it to the pig model, observing inherent associations between candidate RNA editing sites and swine-specific SINE retrotransposons. We are evaluating the stability and repeatability of RNA edited sites among pigs, as well as assessing the spatial and temporal variation of edited sites. This work is crucial to understanding the extent to which RNA editing contributes to single nucleotide variation among swine transcriptomes, and how this unique mechanism of transcriptional regulation contributes to complex phenotypes.
Related Publications & Presentations:
Candidate Gene Association
Our lab uses several different pig populations to evaluate genetic variation associated with candidate genes. Most of the genes we study are selected based on their map position within regions of quantitative trait loci (QTL) identified for phenotypic traits in our Duroc x Pietrain resource population. Single nucleotide polymorphisms (SNPs) in candidate genes are either identified in our lab or obtained from the literature, and SNP genotypes are associated with phenotypes. Recent genes that we have evaluated include IGFBP2, CRHR2, PRKAG3 and LEPR. For some genes, we also evaluate transcript abundance in longissimus dorsi muscle, subcutaneous fat and/or liver samples from our resource population pigs.
Related Publications & Presentations:
Members
Dr. Cathy Ernst Principle Investigator (ernstc@msu.edu)